Some affiliate organisations or grading councils could require that terms and conditions are clearly listed on your business' website. Booking Terms also offer your website visitors a transparent experience, and could protect you from complications related to payments or cancellations.  
You can edit the booking terms displayed on your room pages (Inclusions, checkout times, deposit requirements, cancellation restrictions etc) or the general terms and conditions for your website
Eg: Your website's privacy policy or your property's indemnity.
1. Editing your Booking Terms
Step 1: Click the Settings tab in the left-hand menu > Click Terms and Conditions

Step 2: Enter your Booking Terms in the text field

Step 3: Click Save > A Booking Terms tab will be visible next to your rates

Note: Booking Terms will only appear alongside rates that have been added to the Rate field within an Accommodation pages.
2. Editing or Adding your website's Terms and Conditions
(Repeat Step 1 as above)
Step 1: Scroll down to the Terms and Conditions field. Enter terms and conditions for your website.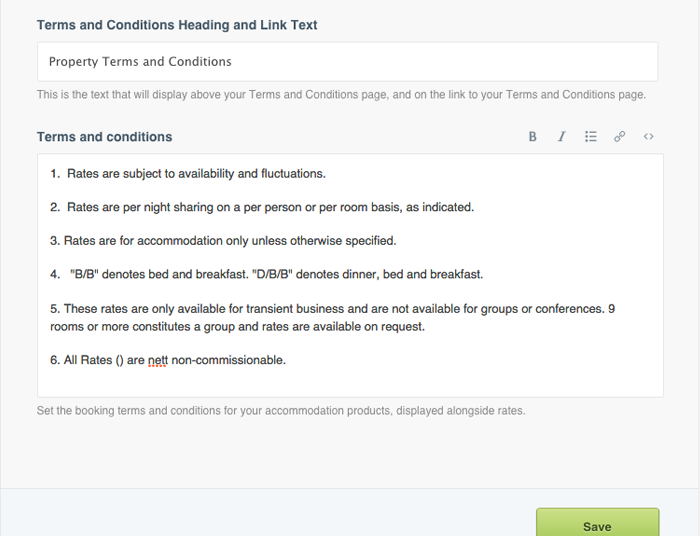 Step 2: When you're done, click "Save". A Terms and Conditions Link will not be visible in the footer of your website. When clicked, it links to a Terms and Conditions page (note that this page will not be visible in your menu builder, and does not appear in your website's main navigation).