Springnest Dashboard is our built-in analytics platform, and gives you insight into how your site has been performing over the past 30 days, compared to the previous 30 day period. With Dashboard, you can get a clear picture of your visitors, and how they use your website, through statistics like page views, locations, and top content.
Visits, Page Views, and Mobile Visits

Visits are the total number of times that your website was visited, by unique or repeat visitors.
Page views represent the total number of pages people viewed while visiting your website.
Mobile Visits show the percentage of your people who visited your website from a mobile device. This includes smart phones and tablets.

Tip: The percentage displayed below the number of visits and page views, indicates by how much your traffic have increased, or decreased compared to the previous 30 day period. Green means it has increased, red means it has decreased.
Location and Top Countries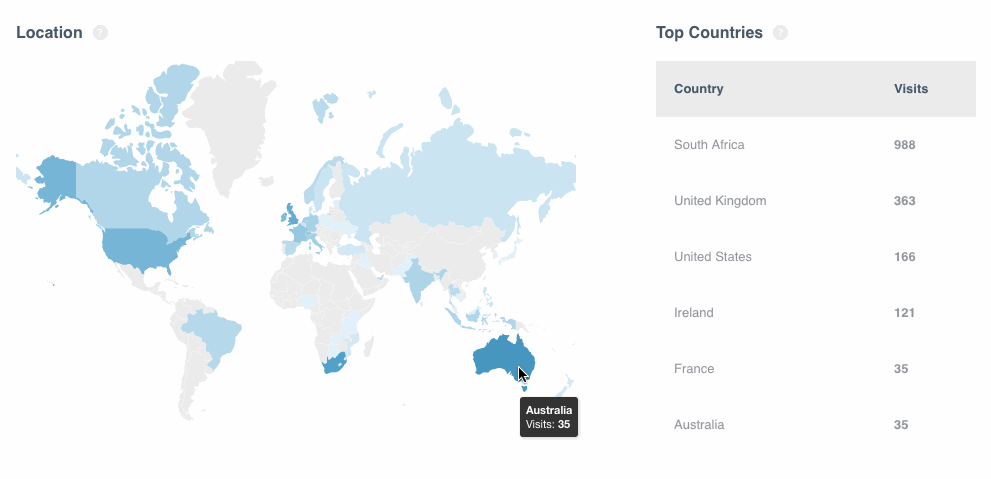 The Location map shows which countries your website visitors came from. The darker the country, the more traffic it generated. You can hover over the map to see how much traffic you received from each country.
Top Countries show where most of your traffic came from, in a list format.
Top Content
Top content indicates which of your pages, offers, or blog posts, people visited the most in the past 30 days. The Page Name shows the name of your page, as it is set in your page's Basic Information.