Displaying clear contact details on your marketing collateral is very important. You are able to add multiple contact numbers to your business' profile, which will show up on your website, mobile website and Facebook Social Brochure.
How to add a new telephone number to your business' profile in Springnest.
Step 1:  Click on the Settings tab > Select Contact Details on the left-hand menu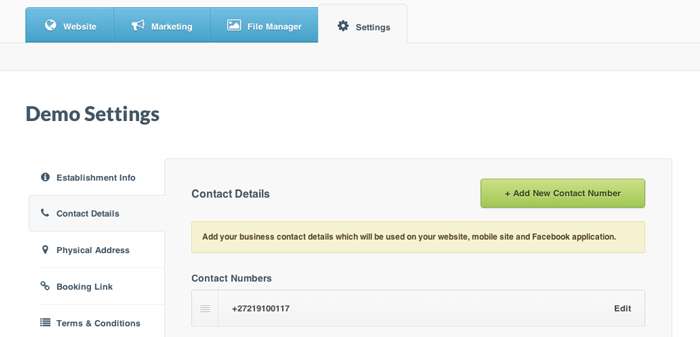 Step 2: Click the +Add New Contact Number button or click Edit if you are updating an existing number
Step 3: Type the number in Number field > Select the drop-down arrow and select the Type of number you've added
Note: Add more details about this contact number in the Comment field. This could be the name of the contact person, the availability of the contact person or a description like Reservations.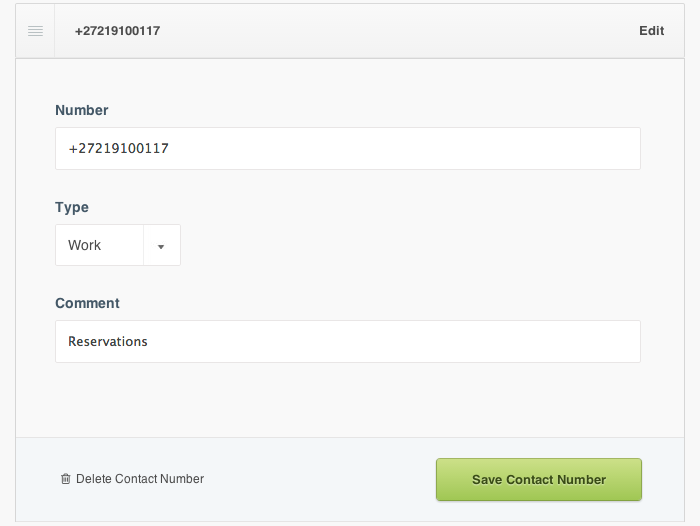 Step 4: Click Save 
Helpful Hint
If you've added multiple contact numbers, you can change the order, by dragging and dropping them into the order that you prefer.
The first item will be the number that displays in your website's header, and is linked to the 'Call Now' button on your mobile website.